Turnaround for this item is 3 to 6 business days.
Create with this Montessori shelf an ideal environment to lead to more imaginative play, foster learning, and facilitate language development. It is designed to be low in...
Show More →
Customer Reviews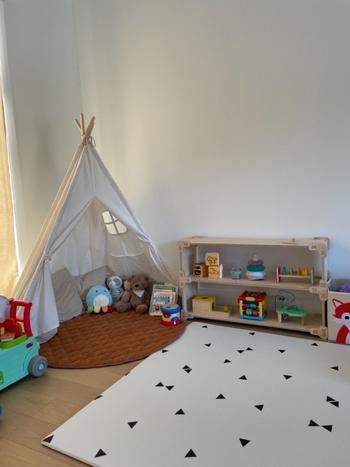 13 February 2022
I recommend this product
Great shelf!!
Very impressed with the work. My kid and I love the shelf and it has been great in his play area!
Christy Y.

Canada
12 November 2021
I recommend this product
It's not only furniture but a space that helps develop the imaginarily of our toddler son
In fact, he has been communicating with shelves by rolling his cars. What I really like about this product is the high level of quality and safety while playing. I know for sure that it's really steady and has smooth corners. We follow the Montessori philosophy in raising our son, so this choice is perfect for adapting to the home's environment and creating a Montessori shelf. You can see it easily in our photos. Finally, it has a modern design. Thank you for your job!
Vladimir P.

Canada